The rich history of Williamsburg lies around each right-hand turn, stoplight and even dogleg lefts.  With so much of the country's early history happening in the small quaint town outside of the first settlement, there is a lot to see.  The town still reenacts some major points of time in the town's history but there are still so many stories that are left untold.  Personally, I have lived in this town for over 20 years and there are still facts and stories that are new to me.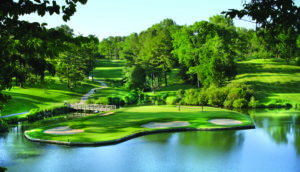 Recently there was a discovery in the Jamestown Settlement of four original colonists.  They were all found together and are said to be some of the earliest and most respected people to have made the journey across the Atlantic to the new world.  It is a wonderful find and one that makes one think about the history so close to us locals and how we forget about where we started.
Now how does all of this make a connection to the game we love?  The courses we work with have a deep history as well.  Did you know that the Golden Horseshoe Green Course was the site of the Confederate soldiers during the Battle of Williamsburg in 1862? Or that the Kingsmil River course was the site for one of the largest ports in America at the time?  Along with the Burwell Plantation located about a half mile away from that port. The original granite from Wales is still sitting there today! All of these sites are still here today to enjoy and reminisce about what actually happened here.
For example the name of the Golden Horseshoe came from an expedition put forth by Governor Alexander Spotswood in 1712.  During the journey, the cavalry was told to have a large quantity of horseshoes for the rugged terrain of the Appalachian Mountains that they were going to encounter.  When they returned from the journey, each of his fellow men received a golden horseshoe to commemorate the trip.  This is also why the small executive course is named for Governor Spotswood.  The main clubhouse is located about 2 blocks away from the Duke of Gloucester Street which is home to the Capital Building and the current Governor's mansion.
Now the location of both Kingsmill and The Golden Horseshoe are connected by Quarterpath Road.  This road takes you from the Port of James, past Burwell Plantation, alongside the 6th fairway of the Green course and finishes at the Capital building.  It's fascinating to think about what the land was used for before the game of golf was brought to the area.
Make sure when you come to Williamsburg you get in touch with the history that lay all around this beautiful city.  Once the capital of Virginia, Williamsburg has now become the capital of golf in the Old Dominion.
Want to mix Colonial History with Williamsburg Golf in one great trip, contact the author of this blog post Patrick Scheil at Virginia Golf Vacations 1-877-806-8163 or patrick@virginiagolfvacations.com